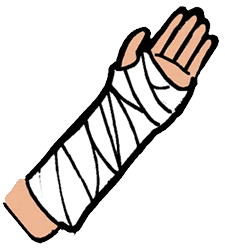 Yes, I know I promised a blog series on writing.  However, God had different plans, and last Sunday I broke my wrist.  So my dominant hand is in a cast for the next 5 weeks.   However, I do have the series all planned out and, as the pain continues to subside, I plan on typing out all the posts for you.  So stay tuned.
On another note, I was able to CLEP American Government the day after I broke my wrist.  I was just so ready to be done with it, that I got up Monday morning and my mom drove me in to the testing center.  My proctor put the computer mouse on the left side of the computer for me, I took my pain medicine, and then CLEPed Government.  Squeaked by with a 51, came home and slept for a couple of hours.
Yes, I'm crazy.  🙂  But I only have 3 tests now until I'm a Senior.